You probably know St. Louis as the Gateway to the West, but the city is emerging as a strong entrepreneurial ecosystem. For decades, St. Louis followed the economic development model of attracting and keeping large out-of-town companies with generous tax breaks and subsidies. In the 1990's, political and business leaders became frustrated with the slow economic growth under these policies and began implementing entrepreneur-friendly policies.
While the city has not abandoned tax breaks and other subsidies to attract big companies, it has adopted an entrepreneurship model driven by state and private efforts. This model appears to be working. Data from the Census Bureau show 9.7 percent of businesses in St. Louis are startups less than three years old. St. Louis can now boast the second best rate of startup growth in the country.
Venture Capital
It is widely believed that an ecosystem should be producing 30 to 35 deals per year to beconsidered stable. St. Louis saw three consecutive years of 30 or more first-round deals from 2013 to 2015. While 2016 reflects a poor year for St. Louis VC investment and first rounds, this decline reflects a nationwide trend.
St. Louis boasts sizable venture capital investment. Like many ecosystems, St. Louis suffered from the dot-com bust in the early 2000's, but a strong pattern of VC investment seems to be emerging. How has St. Louis achieved venture capital growth?
History
The first entrepreneurship-focused programs established in St. Louis were the Donald Danforth Plant Science Center and Skandalaris Entrepreneurship Program.
The Donald Danforth Plant Science Center provides support for plant scientists who work directly with the agriculture technology startups. The Danforth Plant Science Center cofounded the Ag Innovation Showcase, the premier agricultural technology and innovation showcase in the nation.
The Skandalaris Entrepreneurship Program began in 2001 at Washington University, but expanded in 2003 to the Skandalaris Center for Interdisciplinary Innovation and Entrepreneurship. The Skandalaris Center provides entrepreneurial training, networking opportunities and a mentoring program.
When the Great Recession hit in 2008, St. Louis suffered. The "corporate jewel" Anheuser-Busch laid off hundreds at their St. Louis headquarters. St. Louis' per capita personal income shrunk by 5 percent. The metro unemployment rate reached over 10 percent. Despite Danforth Plant Science Center and Skandalaris Entrepreneurship Program, there still was not much positive entrepreneurial output. Researchers and politicians blamed the national economy and the greater time required to establish agriculture-focused startups.
The St. Louis entrepreneurial ecosystem remained largely unsupported until 2012 when the nonprofit Information Technology Entrepreneurs Network (ITEN) began to catalyze the ecosystem. Jim Brasunas, a former telecommunications manager turned entrepreneur, founded ITEN by utilizing the public-private investment fund, Missouri Technology Corporation (MTC).
While ITEN was founded in 2008, many of the programs were not active until two or three years after its founding. Many entrepreneurs credit the development of the entrepreneurial ecosystem to Brasunas and ITEN.
Resources
St. Louis has the requisite components of a successful entrepreneurial ecosystem; highly ranked universities, research-focused centers, accelerators, incubators and venture capital funds. However, the strong private-public partnerships and women-focused accelerators make S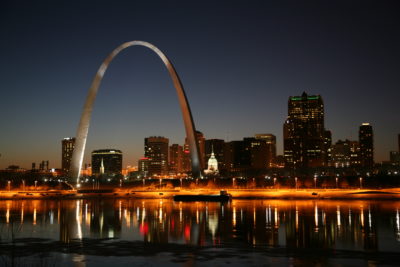 t. Louis' ecosystem unique.
In 2012, MTC put a significant amount of seed money into a new economic development model, Arch Grants. Arch Grants runs a global competition to identify potential entrepreneurs from almost any industry sector. Arch Grants then provides entrepreneurs with $50,000 equity-free grants and pro bono support services if they agree to build their businesses in St. Louis. Over 100 startups have been awarded Arch Grants including RoverTown, which was named the fastest growing tech startup in St. Louis.
Accelerators
Accelerators are key components of any healthy entrepreneurial ecosystem, and St. Louis has a plethora of accelerators. Capital Innovators is a 12 week accelerator program that provides $50,000 in seed funding to startups. The accelerator focuses on IT and consumer product startups, such as LockerDome, Bonfyre and Fluent.
Another notable accelerator is BioSTL. The investment arm of BioSTL, BioGenerator, has worked to grow bioscience startups in the region since 2001. MediBeacon, BacterioScan and Galera Therapeutics are among the startups that have gone through BioGenerator.
SixThirty is St. Louis' largest and most famous accelerator with corporate partners like State Farm and the St. Louis Regional Chamber. The accelerator provides up to $100,000 in funding and sponsors two cohorts per year. SixThirty's expertise is venture capital and revenue acceleration for startups that are at the late-seed stage.
St. Louis' agricultural-technology industry is back, and Yield Lab, opened in 2014, focuses on accelerating this industry. Its nine month AgTech program provides early-stage companies with $100,000 in funding and looks to add value to companies that from a nonfinancial standpoint. The Yield Lab opened a second accelerator in St. Louis' sister city, Galway, Ireland in January of 2017. Graduates of the Yield Lab include S4, Arvengenix and Holganix.
In 2012, St. Louis ranked a disappointing 25th in a national survey of women's entrepreneurship. Prosper Women Entrepreneurs (PWE) was born when community leaders realized that the region could significantly improve its economy and entrepreneurial ecosystem if women reached their entrepreneurial potential.
Women now own a higher share of startups in Missouri than in any other state. PWE offers support to a woman-owned company focusing on technology, health care IT and consumer startups. Graduates of PWE include Appticles, Bandura System and SixPlus.
Co-Working Spaces
In addition to accelerators, St. Louis has a significant number of co-working spaces such as Exit 11 Workspace and Hive44.
Founded in 1999, CIC St. Louis is the most famous of the St. Louis co-working space. CIC focuses on biotechnology and bioscience startups. $2.1 billion in VC has been raised by companies originally based at CIC and more than 800 companies call CIC home.
Venture Capitalists
St. Louis has a significant number of venture capitalist firms. While venture capitalist firms invest around the country and world, it is important to have firms in ecosystems as they often provide VC stability. Advantage Capital Partners, BioGenerator and RiverVest Ventures appear to serve as long term midsize anchor funds for St. Louis. Cultivation Capital raised its first fund in 2012. Lewis and Clark Ventures emerged in 2014 and are a midsize fund.
Looking to the Future
St. Louis is emerging as a stable and strong startup ecosystem in the Midwest. Efforts to increase private and public support for resources, as well as funding and tax credits for research, will facilitate St. Louis' continued growth.